ShowTimer is a software tool made for timing of presentations at live events, symposiums and conferences. There is no need of special hardware such as the outdated DSan systems and often you can find what is needed at the conference facilities – no matter where you go in the world – so just bring a USB stick with the installation software. The program can be operated in single and dual-screen configurations and there is also a feature for pushing messages to speaker while the clock is running.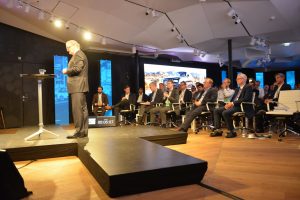 STAGES
The timer walks through different stages according to selected operating mode:
Cue – used for displaying selected time
Counter – counting clock
Stand-by – color changes to yellow and a text is displayed
Live – color changes to red and a new message is displayed
Standard messages for each stage/mode can be customized.
MODES
ShowTimer can be operated in four Show Modes:
Live broadcast
Speaker presentation
Stop watch
Clock
The functions of each mode are:
The timer is set to the clock-time where a live transmission will start, eg at 14.00hrs. When the timer is started a count-down clock will be displayed
At symposiums it is often important to respect a tight schedule so speaking time is limited. In this mode the ShowTimer utility is set to a fixed time, eg 15 minutes for each speaker.
This facility can be used at workshops where activities need to be timed. In this case the output can be connected to projectors and other audience minded displays.
In Clock-mode ShowTimer displays the current time for use at presentations where an exact starting time is not so important. The display can be converted to a stop watch at run-time so the timer can start when the speaker starts his presentation in order to display the elapsed speak time.
CONFIGURATIONS
The system can be set-up in 3 different configurations
Single – used mostly with PC's
Dual – Ideal for laptops with external output
Split – Control panel on laptop and counter at external output
A graphics presentation of how to to configure ShowTimer displays can be seen here:
Sample image: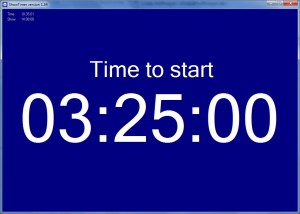 STATEMENTS
"ShowTimer helps us start our live broadcasts exactly on time. The speakers are happy with the counter feature that makes them able to start the presentation without a shouting producer who is counting down in the room"
Jesper, Webcast producer

"Before rehearsals for a theater show I always use ShowTimer connected to the displays in the hall so the actors know exactly when we will start. This avoids a lot of misunderstandings and questions. And I love the new message feature that enables me to push live messages to the displays during run-time"
Anders, Video technician

"For scientific symposiums it is necessary to have a very clear indication of the speaker time as we have a tight schedule every time. ShowTimer is very handy due to its flexible configurations that enables us to set up the timer for use for speakers as well as the staff backstage."
Hans, Event producer